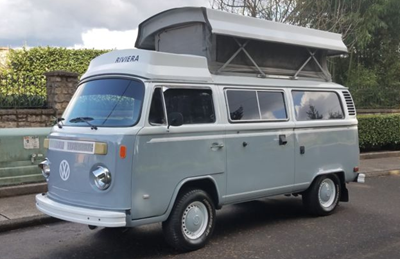 The history of the Camper Riviera goes back to an ancient problem faced by VW dealerships in the 1950s and 1960s. "We want those Westfalia Campers, but the factory won't give them to us until we buy a bunch of their vans too!"
Riviera Motors was headquarter in Beaverton, Oregon, about 10 miles from Portland. Fred Stoermer, connoisseur of VWs, wrote:"Riviera Motors was the regional dealer of Volkswagen based in Beaverton, Oregon." At some point they decided to hire ASI (Automotive Services, Inc.) based in the Vancouver, Washington area for Type 2 Campers conversions following the Westfalia model.
Why did Riviera decide to do this? Surely Westfalias were sold as hot bread, so much so the dealerships quickly ran out of Campers. Since Westfalias demand was so high, VW offered the following offer: "Take it or leave it": you get X number of Westfalias when you buy AND number of trucks and vans. This caused a problem for Knute Qvale, owner of Riviera Motors. Truck and VW panel sales moved slowly compared to Campers. Knute knew an ebanist named Lasko and assigned him to design and build a Camper conversion that would work with the VW panel. Then the same imposed a new regime on their intermediary dealers: you get X number of Campers Westfalia when you buy AND number of my Campers "Riviera". Dealers doubted at first, but once they saw the conversion workforce, they got on board.
The first Riviera conversions began in 1965. The Camper Riviera was produced during the last 3 years of the Kombi Picua (Split Window). Unfortunately, no one at Riviera Motors or ASI kept accurate records of Riviera Picua production numbers. A handful of Campers Riviera were also equipped with Sportsmoblie pop caps courtesy of Travel Equipment Corp. in Elkhart, Indiana. Riviera continues its conversions in Baywindows and Vanagons, which were just as successful as the first version.