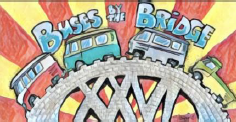 Since there was so much coverage of the Lake Havasu Buses by the Bridge on FB this year I de-cided to focus on the road trip out and back from Lake Havasu. "It's not the destination but the journey there" adds to the adventure of the trip so I thought about sharing about that this month.
Interstate travelling always brings a number of factors into play when driving a VW. A lot of people focus first on the reliability of the vehicle more so than the experience of the uncer-tainty of each and every day of living life on the road. What are you going to do, what you are going to see, where you are going to stay and of course who are you going to meet. I like living in the bus when I travel so finding alternate camping along the way has added to the fun of the adventure and its amazing how many options you can find along the way.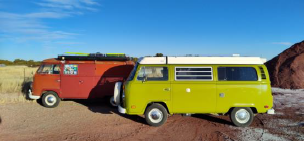 I had my good friend Sam Ervin from KC join me on this trip. Sam has travelled with me on a few of my trips to Texas, New Mexico, and Arizona in the past. The first step in enjoying the adventure is to have your vehicle totally prepped and all the bases covered before the trip to avoid unexpected mechanical issues along the way which on long distance trips can create major challenges. The peace of mind of knowing that your hands have been everywhere on the vehicle and that all wear items on the bus have been inspected, replaced as needed and showing no warning issues prior to the trip. People often ask aren't you afraid of breaking down along the way which I reply "I drive my bus like you drive your Toyota Camry" and never really think about it. Sam is very particular about his bus mechanically too so it adds to the confidence of setting out on the open road.
Now on to the trip, Sam drives down to Tulsa on his day 1. It was a good time for a shakedown cruise knowing that Sam's bus recently had new cylinder heads and several fuel injection parts replaced. The trip was uneventful so the confidence in the bus was where it needed to be at.
Day 2: We left Tulsa with mild winds coming from the west. Head winds are always a factor on the road. With the favorable conditions we headed west with no particular travel goal for the day. The "go with the flow" concept of travel was in high gear. We crossed the New Mexico border and stopped at Russell's Truck Stop in Glen Rio. It is a family owned place that has been around for a long time. It has a great diner, large parking ar-ea, night se-curity, of-fers over-night parking and best of all a car and memorabilia museum. They have a pristine 1974 Karmann Ghia on display along with all kinds of classic cars and cool vintage stuff that the Russell family had collected over the years. That cov-ered our needs so this became stop 1, had a great meal, secure parking, sparkling bathrooms, a great museum and of course fuel. This was also the first night of breaking in my new diesel auxiliary heater. What a difference in the comfort of the bus overnight, toasty warm with the tempera-ture outside in the low 20's. At this point on I-40 you are at 3850' above sea level so temps feel differently and the oxygen content of the air starts to change which affects you mildly and carbureted bus's starts to idle differently. (About 400 miles covered)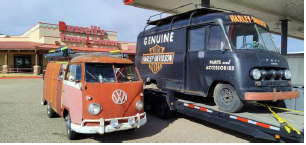 Day 3: We leave Russell's after having a great breakfast and fueling up only face 30+ mile per hour headwinds from the west. This always creates bit of a struggle especially with the long grades on 40 in New Mexico. We didn't seem to be making steady progress not that it mattered but around 2:00 we see traffic has come to a stop in the distance up a mountain grade. There is an exit near where the traffic stopped which I decided to take. Nothing at the exit but a state highway maintenance lot. After checking the goggle maps we see that traffic is backed up for miles and between the high winds and the fact that there are steep grades all the way to Albu-querque we decide this will be home for the night. Stop and go driving in the mountain grades in a bus is hard on clutch among other components which sometimes can be deciding factor on the road to reduce the likelihood of part failure. Split window buses were never intended for interstate driving. It was early travel stop but it turned into a relaxed camp location and we savored the decision to stop while we watched the traffic at a standstill for hours. This goes back to the "go with the flow travel" concept "free styling" each and every day. We had a great camp style meal and looked forward to what the next day would bring us. (Only 180 miles were covered today)
Day 4: We get up at the crack of dawn after a restful night and hit the road. We find out that a multi tractor trailer accident had shut down the road the previous day. To our amazement the winds were light and it made for great travelling speeds. I have an app called "Windy" which shows wind patterns and intensity. I sometimes plan my travel day based on this. Struggling in the wind all day can cause sore shoulders and general fatigue for you and the bus feels it in its own way too, engine temps etc. Anything you can do to promote longevity of old mechanical technology on these long trips is a good thing.
One thing I have noticed travelling this past year is how low the water levels are across the country in lakes, streams and rivers. We stopped for a break at the Blue Hole Lake near Santa Rosa NM and it was virtually empty due to the lack of rains.
Before we knew it we passed through Albuquerque and had reached 5300' above sea level. At this time I made a small idle bypass and mixture screw ad-justment to the carburetor. This adjustment holds through elevation changes through Flagstaff (7000'). On a maintenance note the oil level and belt tension is checked daily. Having made this travel progress we decided to move on to Flag-staff.
At one of the NM rest stops along the way we meet a young man from New Jersey, Liam. He was a waterfall base jumper. He shared interesting travel experienc-es and photos of waterfall locations from all over the country. He talked about an organized network of like-minded thrill seekers that meet in different parts of the country looking for the ultimate dive. What they do is on the edge of legality since they access private and government lands to ac-cess the falls. We connected on Instagram and he is sharing the locations they go to and I hope to meet them at a jump site in eastern Tennessee in May. The number of people you meet along the road and the stories we share is amazing. Gas stops and road side rests normally turn into 45 minute stops before it is said and done with the people you meet.
After crossing into Arizona we start thinking about stopping points for our next camp. I used my "Campendium" app which had a number of places to choose from. I decided on Walnut Canyon National Monument which was not far from the inter-state and had free primitive camping. It is a beautiful rocky canyon with ancestral Hopi Indian cave dwellings imbedded into the steep slopes. We explored the park which had a recent snow fall only to find that the primitive camp area roadway was muddy and risky to drive on. After talking to a Park Ranger we got permission to park on a paved turnout off the main road which had beautiful views and we had a spectacular night to observe the stars.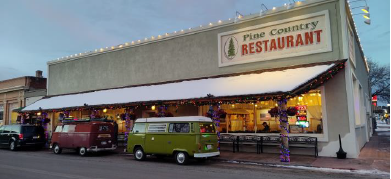 Day 5: We woke up to frigid 14 degrees. The diesel heaters in both buses kept us comfortable. We hit the road and headed to Williams AZ on the other side of Flagstaff. We stopped and ate at the Pine Country restaurant which has been a regular stop for me on my trips out west. The town is full of historic buildings with tourist shops and all the essentials for camping in the area. Williams is the starting point for the Grand Canyon railroad and is about 70 miles from the Grand Canyon. From Williams (6765') we started our decent to Kingman Az (3333') which has steep long descending grades for miles. Disc brake conversions are a benefit when descending. I decided to update a few years ago and it def-initely give some peace of mind in mountainous condi-tions. After Kingman we made our final descent to Lake Havasu (738'). When we arrived there were 5 buses in the line up outside of the Windsor State Park. We decided to pre-stage with Jeff, Duane and Phil who manage the lineup staging area and get in line when it reached the parking lot area. People were allowed to lineup on Sunday this year. The lineup is nothing but a good time. One of the highlights of line up beyond meeting with friends from the past and new ones, was meeting Tobias from Patagonia, Argentina who was concluding a 3 year trip with his dog. He was selling his massively converted Bus (you name it, he had it) with a generic diesel engine when he got to LA after the event.
From this point the pictures and videos of the event you saw on Facebook said it all. Noth-ing but a good time with hundreds of your best VW buddies from all over the country and be-yond. We met several first timers at BBB in-cluding some friends I met at shows in New Orleans and Biloxi earlier this year which was an unexpected pleasure. Simpson Hobgood from Tarrytown, MS drove his 70 Westy solo and ex-perienced his first cross country trip which I thought was something else. His take away from the trip: I need a bigger motor and bet-ter preparation for cold weather.
Day 11: We had heard a report of a winter storm warning in Flagstaff on Sunday morning and rain in the afternoon. As much as we hated to leave on Saturday morning we decide to head out and as it turned out it was a good decision. The predicted 16" inches of snow hit Williams ar-rived early on Sunday morning with accumulations of 30+ inches in the mountain areas around Flagstaff. We had excellent conditions and a strong tailwind and managed to comfortably drive to Albuquerque arriving in the early evening. After a long day on the road we decided to camp at the Flying J on the west side of town. Not the typical stop but it had what we needed.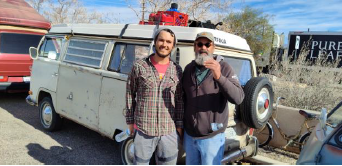 Day 12: We hit the road early with impending rain headed our way. While driving through Albuquerque a red beetle kept zooming by us and then slowing down. Then he signaled for us to pull over at the next exit. Turns out the driver was so excited seeing 2 buses on the road that he wanted to chat with us. We followed him off the exit and had a great conversation. It was nice hearing the enthusiasm from a young VW driver and his aspiration to get a bus. We got back on the road and after pulling the steep grade out of Albuquerque we hit the level high desert again with a tailwind and started the gradual descent towards Amarillo (3668'). We were in free styling travel mode and decided to stop before getting to the Oklahoma border. I suggested a spot that I had camped at years ago but wasn't sure if Sam would like it. We stopped at the giant cross in Groom, Texas. It turned out to be a great spot and they had expanded the facilities around the cross since my last stop years ago. There was a large berm which blocked the strong winds and it was a quiet peaceful place for the overnight stay.
Day 13: A stairs stepping downhill run all the way to Tulsa (722') with a brisk tailwind lead to a short day on the road and easy driving conditions concluded an awe-some road trip. 2600 road miles, about a quart of oil added to both buses and other than altitude adjust-ments to my carb, mechanically uneventful. What more could you ask for.